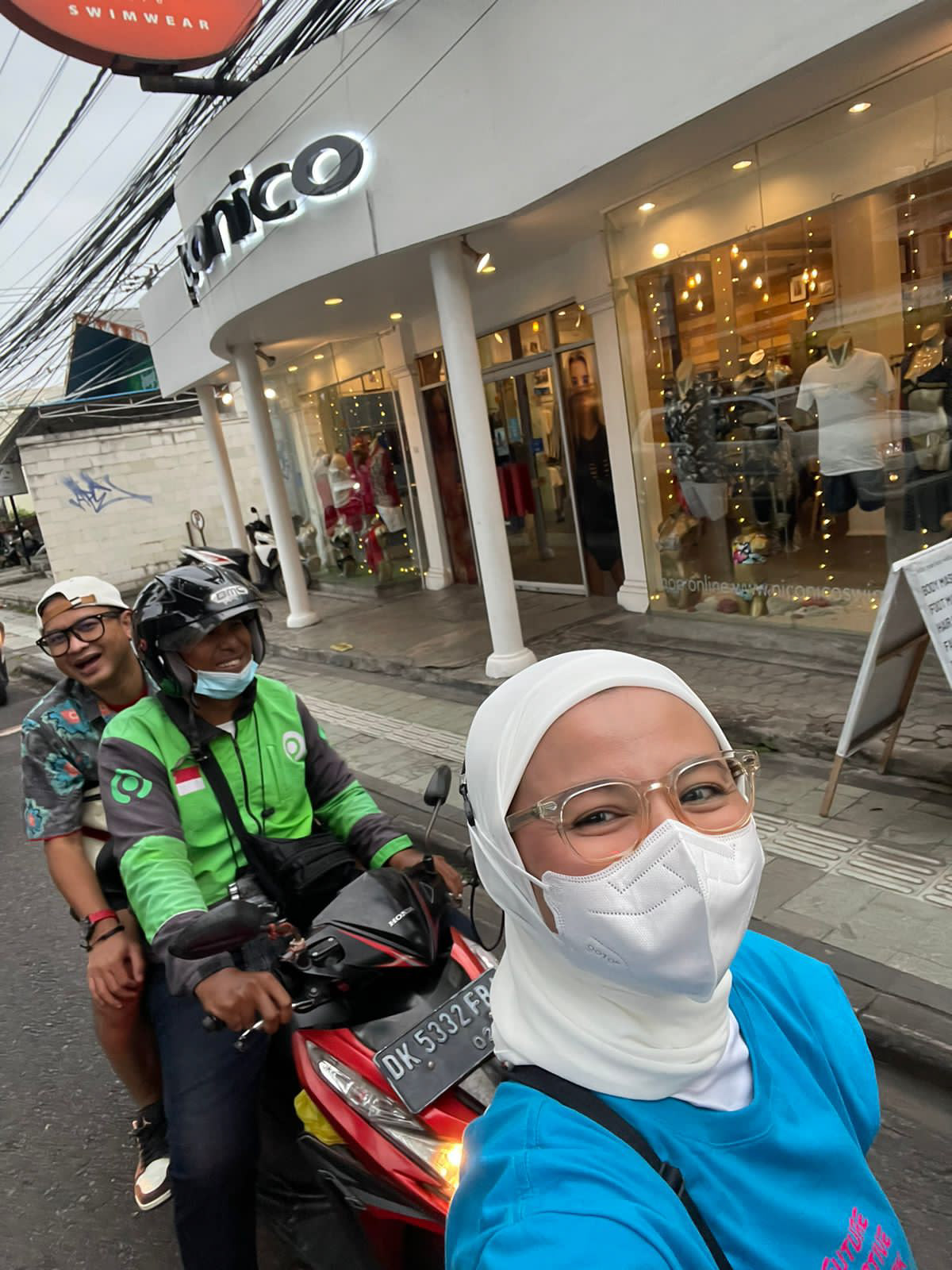 Finch Agency Jakarta has hired Lembu Wiworo as ECD. Wiworo will work closely with Finch's two CDs, Decky Bagus Hermawan and Max Roza Natadjaya.
Roza said: "A great addition for Finch with the arrival of Lembu, his experiences and his previous background from tech startups will add value to the creative output by Finch." Wiworo has been in ad industry for over 17 years and prior to joining Finch was in brand side, he was Chief Brand Officer at digital telco provider Switch, part of Smartfren telecom, and before that he was AVP marketing creative for Bukalapak, a unicorn startup in Indonesia, where he made Bukalapak different from other e-commerce competitors.In addition to client responsibilities, Wiworo will also be responsible for developing and training the agency's talent.
source:
Campaign Brief Asia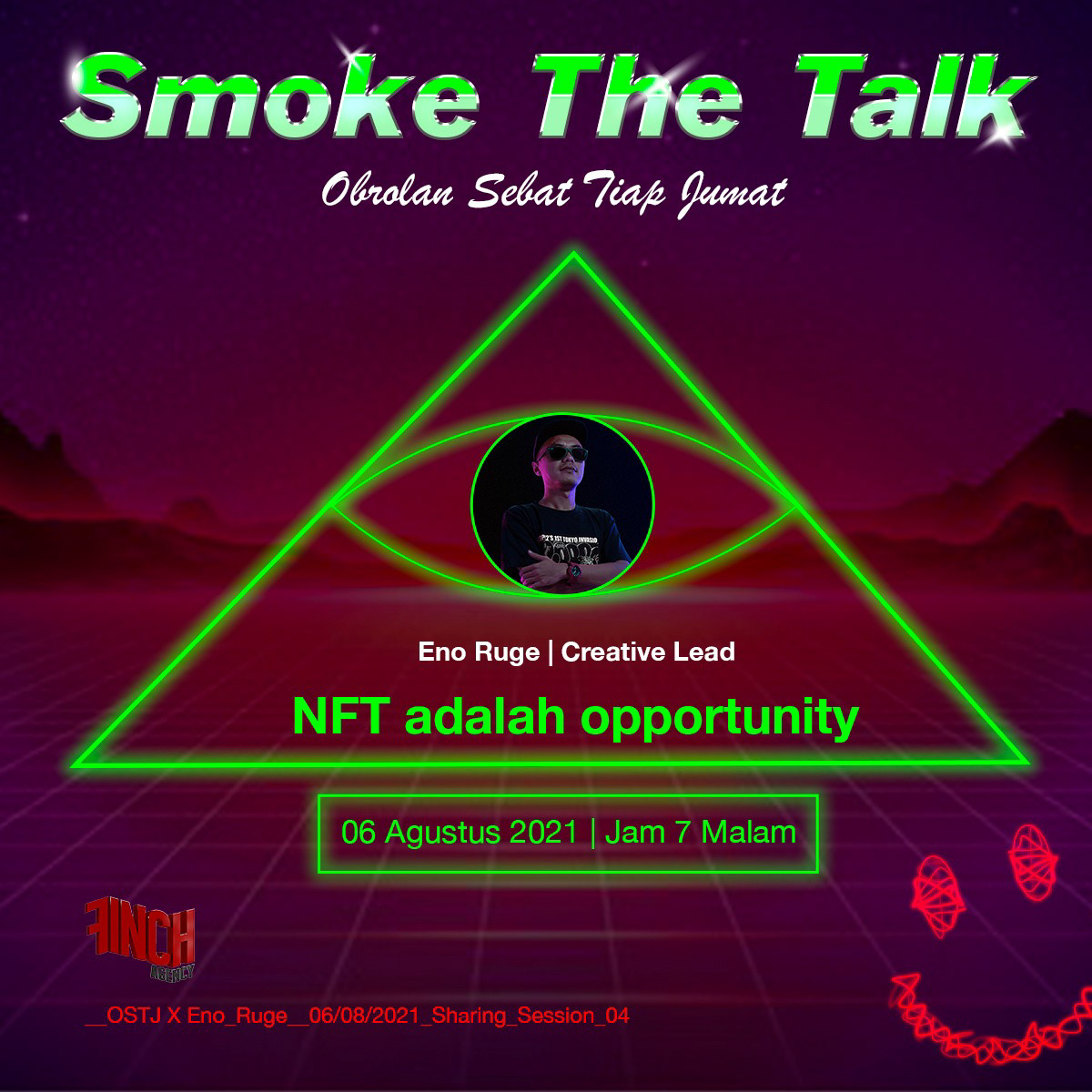 Calling all Barisan Penunggu Grab!!! ben luwih akrab, luwih asik dan kudune luwih "intim" dengan lurrrrd @bramsky.bramsky Sesok...gass di jam 7 bengi waktu agency setempat!!! #barisanpenunggugrab
Barisan Penunggu Grab - Session 01 by Max Roza
Yok sharing yok! Kapan lagi bisa sharing-sharing merch kesukaan Jimin Rozali dari dulu hingga kini? Ditunggu guys! Jangan engga hadir nanti BTS gamau ke Indonesia lagi! #finchtaminbiarimun
Sasa partnered with Finch Jakarta to release a music video for people around the world. Since the pandemic hit, people have been looking for ways to entertain themselves at home, through singing, dancing, and sometimes both.

The world has lived with COVID-19 for a year. During this hard time full of uncertainty and sorrow, a shade of light has gradually changed sadness into hope, with breakthrough in vaccines now people have adapted, ready to get up and get their normal life back.
The music video, created in collaboration with Indonesian Music Group, HiVi! targets gen z & millennials, regardless of their belief, ethnicity and nation, asking them to just enjoy the moment and stay hopeful with us through this song.
PT Sasa Inti CEO, DR. Rudolf Tjandra, said: "Sasa is about happiness and hope. The pandemic has taken some of those happiness aaway, and hope is turning to surrender. We believe human beings are resilient, resourceful and able to beat all odds. If only we do it together across nationalities, genders, races, and religions, we can beat this! There is a rainbow after the heaviest rain. Every cloud has a silver lining. Sasa is part of the world and the world is Sasa! As a leading food and seasoning company from Indonesia, thi is our most heartfelt contribution to each and everyone. Godspeed #HappinessisSasa.
"Within a week, our music & MV has reached 7.5m views! Not to mention a huge request to put it on music platforms such as Spotify caused by the good vibes this song spread and wide coverage from local and international media such as detik.com, Kompas.com, CNN Indonesia, CNBC Indonesia, and Channel News Asia! We hope that we've uplifted and cheered 7.5m people spirit and more! And through this song we hope we can also ease the burden of being at home all the time and audiences can see Sasa as their partner to get through it all."
Credits
Chief Creative Officer: Yerry Indrajaya
Creative Director: Max Roza Natadjaya
Creative Group Head: Eno Ruge & Audra Rasjid
Art Director: Gianine Cindy & Devi Merakati
Copywriter: Azvina Firanza Alamsyah & Maynita Eva Panggabean
Film Director: Bramsky
FINCH Agency, Jakarta has created this 'InstaFace' print campaign for cosmetic brand Marina which introduces three InstaGramers who, like 85% of Indonesian women, also experience acne problems.

The print ads feature Windy Alya, a foody, Hesti Sarah's aesthetically pleasing photography and Maynita Eva's travel photos.

During Covid-19 outbreak, FINCH Agency in Jakarta initiated an initiative that wants to bring hope and happiness to Indonesian people in the midst of the global pandemic of COVID-19. The economic sectors hit hard across the world, and in Indonesia, it especially hit harder on minimum wage citizens and small business stalls that are practically losing their source of income to buy their bread and butter.
Sasa is a leading seasoning company, so the agency wanted to help them with something they know best, food. To encourage people to reduce the spread of covid-19 by eating good food, staying at home, while at the same time giving love to the small business owner and minimum wage citizen.
The EAT STAY LOVE package was created. A special edition seasoning package that can be purchased in big e-commerces in Indonesia. For every purchase, Indonesian family can spend their time at home more fun cooking delicious food with SASA Seasoning, and automatically donating to a food donation that initiated by SASA with the help of ACT (Aksi Cepat Tanggap), for the small business owner and minimum wage citizen.
As it launches, 10475 packages have been sold in just under 3 months. Showing how great the enthusiast for helping people in need through this campaign. Showing that goodwill with good communication will always bring a good impact on our society.
Credits
Agency: FINCH Agency, Jakarta
Chief Creative Officer: Yerry Indrajaya
Assoc Creative Director: Max Roza Natadjaya
Art Director: Adila Amilia Mochtar
Art Director: Fajar Utomo
Art Director: Rizky Widamukti AdirosoCopywriter: Hesti Sarah Indranuari
Copywriter: Maynita Eva Panggabean
Production House: Seven plus
Strategist: Ariobimo Raharjo
Strategist: Andhika Wicaksana

After gaining success through Sasa Seasoning Flour Fried Meatballs anime commercial last year, Sasa and Finch Agency Jakarta have released another spot for their new seasoning flour with Platinum Care Plus.
To deliver the benefits of Sasa Seasoning Flour with Platinum Care Plus, Finch Agency Jakarta brings a futuristic theme to stand out beyond the conventional seasoned flour product commercial category.
The spot depicts futuristic Indonesian city and people that have not lost their love for fritters.
The spot has reached 6.3m views on YouTube and 4.5m views on Instagram.
Credits
Client: PT Sasa Inti
Chief Creative Officer: Yerry Indrajaya
Associate Creative Director: Decky Bagus
Art Director: Hendri Susila
Copywriter: Fitrianasari
Film Director: Bartek Kik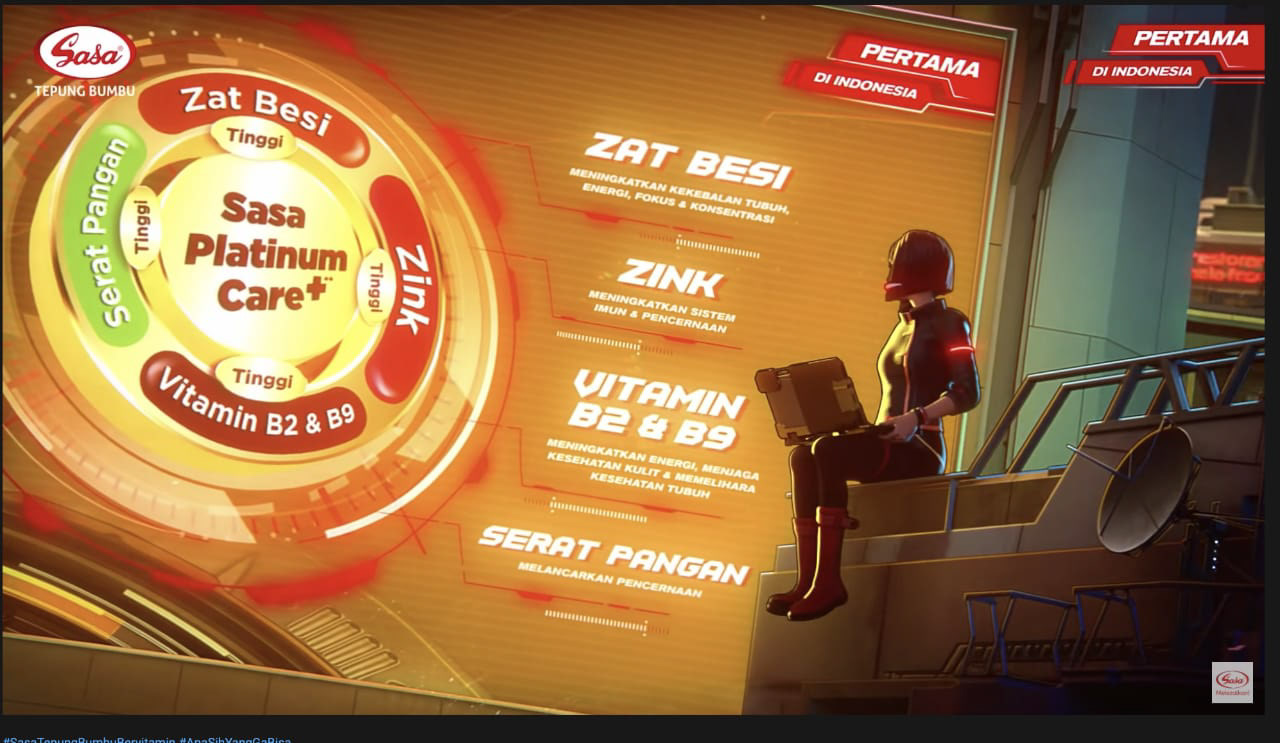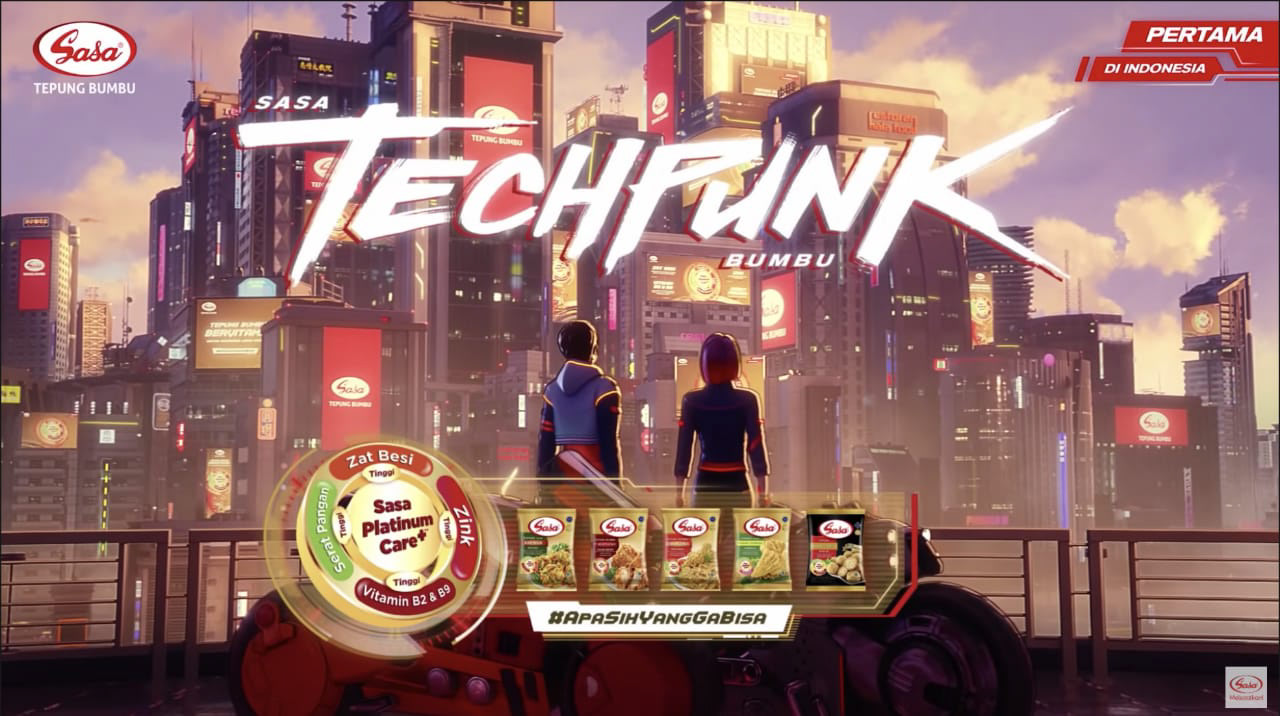 Untuk membawa udara segar ke dalam segmen iklan Sasa Tepung Bumbu, Sasa berkolaborasi dengan FInch Agency sebagai biro iklannya, menghadirkan iklan bertema animasi futuristik yang mendobrak batas dan di luar kebiasaan iklan tepung bumbu yang ada di Indonesia.

Iklan Sasa Tepung Bumbu Bervitamin terbaru ini membawa pesan manfaat fortifikasi yang terdapat dalam Sasa Tepung Bumbu Bervitamin dengan adanya inovasi Platinum care plus yang digambarkan dalam kecanggihan teknologi masa depan. Ditambah dengan visual animasi futuristik yang menggambarkan kota Indonesia di masa depan yang bisa menikmati berbagai gorengan sehat, menjadikan iklan Sasa Tepung Bumbu ini lebih unik dan berbeda dengan iklan tepung bumbu konvensional pada umumnya.
Selama periode penayangannya, iklan ini telah mencapai 6,3 juta penayangan di YouTube dan 4,5 juta penayangan di Instagram, juga berbagai antusiasme dari konsumen terlihat di kolom komentar.
Lewat iklan terbarunya ini Sasa Tepung Bumbu ingin mengubah kebiasaan masyarakat agar beralih ke gorengan bervitamin untuk mewujudkan Indonesia yang lebih sehat dan lebih maju untuk masa depan.